Mid-COVID Winter Innovation Thrives: Combining IoMT, AI and COVID Protocols to Diagnose and Triage
In the face of tremendous sadness, uncertainty, and loss, innovators are coming together to work as hard and fast as they can to address the challenges associated with the global pandemic. With the advent of vaccines, there is an end in sight. But what we have learned from this crisis is that we can be more prepared as a society to deal with future population health crises, so the work entrepreneurs are doing to address major challenges using software is not limited to this tragic moment in history.
Notwithstanding the lapses in collaboration across the aisle – and putting politics aside – experts who have spent years developing digital healthcare solutions, from telemedicine to AI-assisted applications, now have a new context within which to build businesses based on improving the delivery of healthcare, from providers and payors alike, and the future looks bright given creative partnerships underway.
Since the start of the Covid-19 pandemic, millions of people in every corner of the world have been touched by human tragedy and financial hardship from the global economic downturn. As difficult as these hardships have been, coping with Covid-19 has revealed a silver lining. In finding ways to mitigate and minimize exposure to Covid-19, the collective shift to remote services has forced a digital transformation on a large scale.
"We've been working hard at the crossroads of telemedicine – in real-time communications enabling virtual visits, to the adoption of AI for real-time analytics based on data streamed from connected devices, in people's homes," said Dr. Altagracia Miranda, co-founder of TeleMedCo. "There has never been more urgency, as the pandemic continues, to innovate when it comes to engaging with patients, assessing their conditions, and providing quality care remotely."
Miranda noted that while it is gratifying to see the industry embrace new technologies and come together to build long-term solutions, "millions of people are suffering and we need to help them now, not years into the future. With the right protocols and approaches, we can help people during the COVID crisis to avoid hospitalization and manage their symptoms after being tested positive, which relieves the pressure put on hospitals."
A respected ER doctor and software innovation expert, Miranda worked with IBM Watson to develop ER protocols, based on industry standards, to help diagnose and treat patients more quickly and effectively. In 2020, she and her co-founder Barry Solomon expanded TeleMedCo to include telemedicine services which bring together real-time communications and collaboration with the Internet of Medical Things (IoMT) which makes it possible to read data from devices that monitor oxygen levels, pulse, heart rate, temperature and more.
"Medical technology is critical in getting us through this crisis," Miranda said. "Whether technology is used to diagnose new cases, monitor patients in quarantine, or care for those with other health issues, the rapid adoption of telehealth shows that remote care is highly scalable and works well in both rural and highly populated urban areas where there are so many disparities, including providing care for black and brown Americans. We've been investing in and developing remote care solutions for over a decade, and one of the bittersweet consequences of the pandemic is that the U.S. government as well as providers and payers are now accelerating adoption so they can better manage the unthinkable demand."
According to a July report by the U.S. Department of Health and Human Services' Assistant Secretary for Planning and Evaluation (ASPE), primary care telehealth visits by Medicare beneficiaries increased by nearly 50% at its peak from January through June. Even in Nebraska, which has the lowest rate of telehealth adoption, there was a 22% increase.
Technology adopted to mitigate COVID-19's spread, to keep people at home and support them seems to be here to stay. A recent report by IQVIA supports this, noting that the 25% of care expected to remain remote after the pandemic ends will have a significant long-term impact on managing chronic disease. The obvious benefits of remotely monitoring patients' biological data include being able to help more patients in more places while preventing Covid-19 transmission resulting in massive savings in cost and time.
Miranda noted that TeleMedCo is working with PrimoCare to dispatch medical monitoring devices as part of their overall solution, which they have been developing for senior assisted living and long-term care providers, as well as U.S. military veteran organizations. "Robust remote healthcare requires a connected network of devices and wearables that generate patient data that can be integrated into healthcare workflows," Miranda said. "We are rolling out easy ways for patients and their care teams to stay connected, with their vitals streamed into the patient's electronic medical record, enhanced with AI that drives simple functionality, such as alerts and notifications, and that can with additional development of algorithms based on existing standards guide the treatment of more patients more efficiently."
Miranda says COVID-19 has shone a bright light on the potential and says also that " we can more efficiently manage chronic illnesses including heart conditions, diabetes, hypertension, and so forth, preventing unnecessary deaths, and dramatically reducing the cost of care."
On her experience with COVID-19, Miranda said, "Our first line of communication is with the local epidemiology departments across the country. They are the first to be alerted if there is an outbreak of sorts. Clear communication between the ER, epidemiologist, and hospital administration needs to be made to create a system of alerting healthcare providers."
She has proposed and is working to roll out a COVID algorithm: "What's your CC: fever? SOB? Fever plus SOB? Significant history of lung problems? We are working with a software development company, Agnity, to create an algorithm that will follow COVID protocol. Anyone flagged with possible flu or COVID get rerouted to another part of the hospital automatically, as one example of a use case."
Miranda says she's inspired by so many organizations rallying to create solutions combining the data that can be generated by devices, telemedicine visits, and AI that analyzes the combination. "We are still in crisis mode, but when we are faced with the next epidemic or pandemic, we will be so much more prepared, and this means so many lives will be spared, so many families served, that we must never stop working to make healthcare better, less expensive and universally accessible."
Originally published on IoT Evolution Health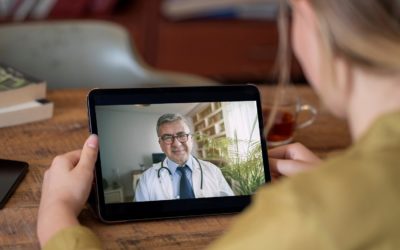 If we go back to the time when television came over the air, all seven channels of it, and the fast-food banner was carried by White Castle, and healthcare was home delivered, doctors with MD plates would drive up to your home and conduct their examination right there.
read more